Final concrete pour(!) for the retaining walls this morning went really well. I spent a lot more time putting up the formwork, reinforcing and bracing it, than I had before – ended up with the first sheets stitched together, propped up on little 'legs' to the right height, and lined with builders' plastic, then put in a second layer behind those sheets and screwed to the first for extra strength. The whole thing then got propped up in the trench with handy blocks of concrete that were the overspill from the house pour. 🙂
Concrete truck rocked up on time(!), and this driver turned out to be the best of the bunch – excellent control of the concrete flow, and a fantastic eye for how much needed to go into each section. Out of 20-odd sections we only needed to adjust about four of them.
Virtually no movement from the formwork panels – the closest one in the shot above moved out a little, as you can see from the spacer block coming off the post, but nothing major. Hoping that the better structure, lack of panels pinned between concrete and earth, and the plastic will make disassembly quite simple. So with a bit of post-tweaking and straitening we were done for the morning.
Meanwhile the earthworks guys were on site, and in very short order turned 19 big piles of sand: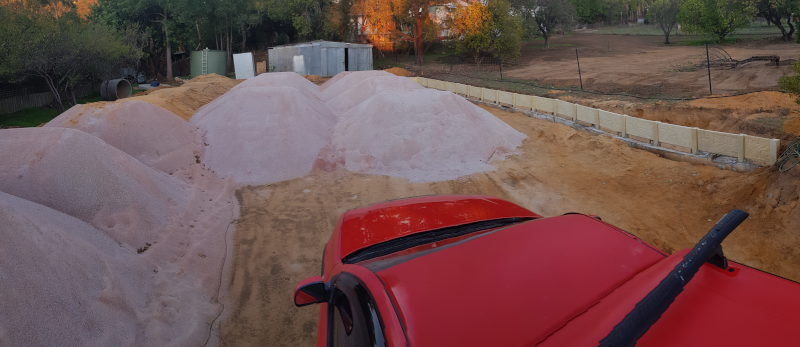 into this extremely flat masterpiece on the house site: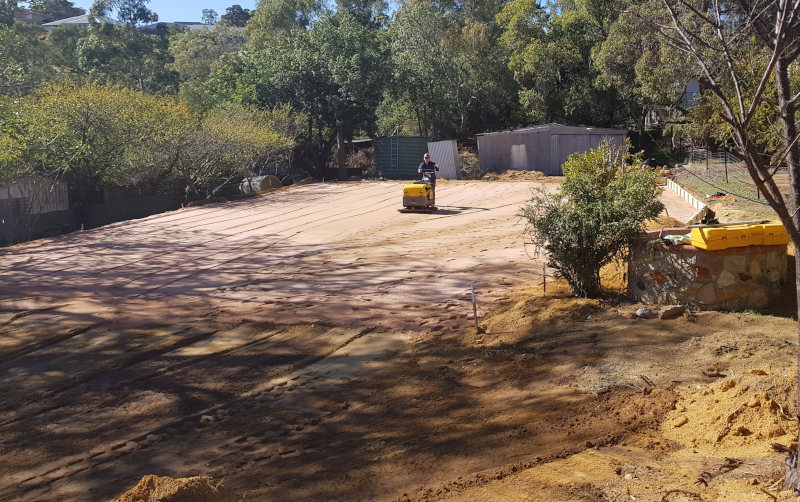 Very interesting to see the final house level extended out to its full extent, which (among other things) made the fall to the ATU in the back corner a lot more obvious.