Back on my own today, putting together the C-channels for the inside edges of the upstand. Figured this would be a long day, but it turned into the first late-night epic.
Spent the morning welding together the last 2 sections, which were about 7 and 9m long respectively and included my architect's piece of "flair" – the recessed wall on the pantry which steps in about 200mm for *reasons*. Why did I agree to this? There's a shot of the formwork and C-channel here from the pour day (spoilers!):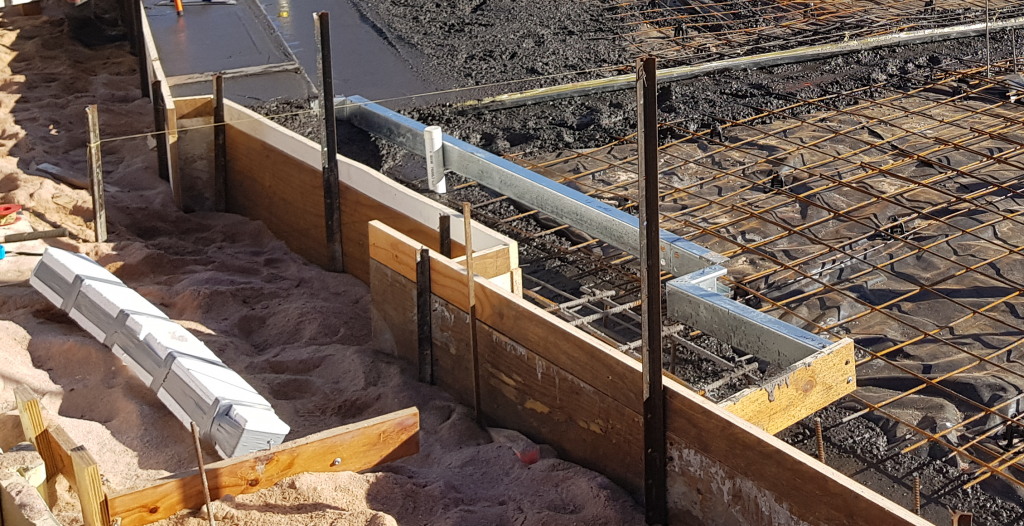 The afternoon was putting all the channels in place – I had a couple of ideas of how to do this, but changed my mind a few times and ended up welding short pieces of 12mm rebar from the main cages in the edges to the back of the channel. Along with pieces of ply going directly from the form to the C-channel and holding it at the right offset, this locked everything together nicely – formwork, C-channels and rebar cages. I even leaned on the channel a couple of times and was a bit surprised that it wouldn't budge under my considerable bulk.
The downside of all of this was that it took time. Lots of time. About 6pm I realised I wasn't going to get to my other job (putting in the bolts for the main columns, ready to be embedded in the concrete) and rang the concreter. He assured me I had more time in the morning than I thought – the pour was slated to start at 8am, but they wouldn't finish pouring until 11 and I could push the l-bolts in at any point in that process.
Even so, a sight familiar to every self-builder: working by lamplight.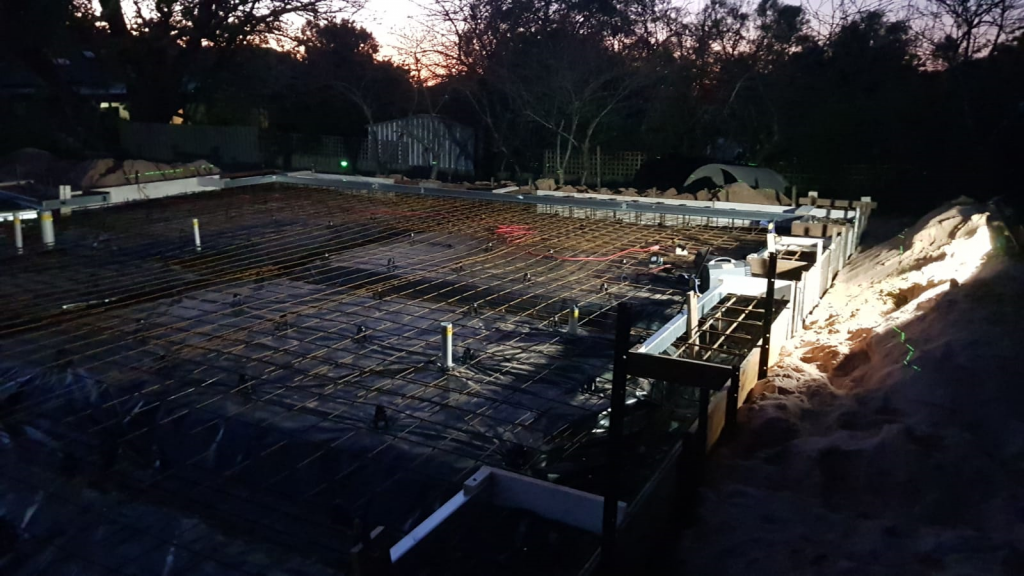 Finished using the noisy tools about 7:40pm (oops, sorry neighbours – it was only the rattle gun, but it does rattle) and had just a big run of welding to do before finishing up around 9pm. Thankfully it was a very pleasant night, working away with the lamp from my set of cordless gear and the full moon for company.
As usual with these things, once you get a system worked out it goes a lot faster. The first section took about 2 hours, the next 2 sections took 3 hours, then the last 3 took 2 hours! When you can manage to suspend a 9m-length of c-channel in mid air with four short lengths of ply and 3 quick-clamps, within a couple of mm of nominal height, you know you've got the system worked out.