One of the final steps before baling – fixing the bottom plate to the slab, and filling the cavity with bluemetal to support the bales while allowing for drainage.
The sparkies had been busy running cables from the switchboard to….just about everywhere, drilling holes in the top of the C-channel and then through the inside wall of the bottom plate – the way I'd set up the cross-pieces, there was very convenient cavities leading from the C-channel to each post, so they ran the cables up each post (which are all on the outside of the wall) to the inside as I place bales.
While they were doing that I drilled LOTS of holes for dynabolts, to fix the bottom plate. I'd already killed my standard hammer drill trying to dig holes for the post support anchors, so took the opportunity to pick up an SDS drill – even a basic one is So. Much. Better. than your average hammer drill. Had a lovely time drilling holes until the bit snapped with four holes left to do (ugh!), shovelled lots of bluemetal, picked up another bit and some more bluemetal, shovelled that, and done: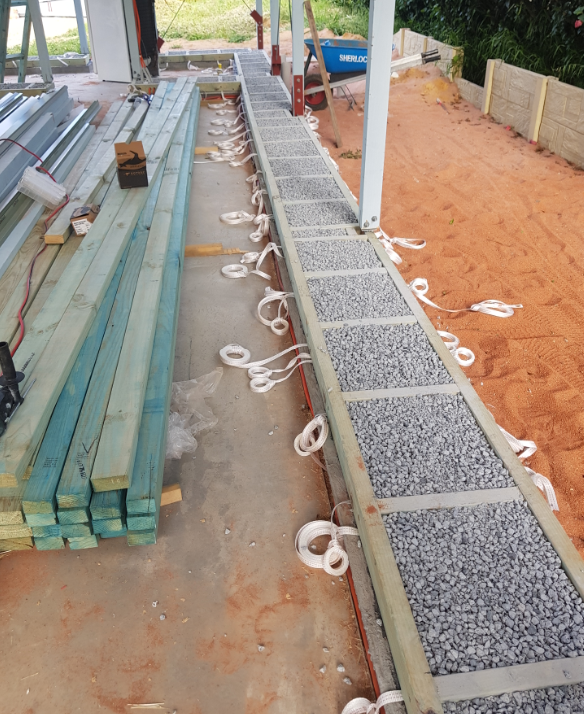 Of course I didn't take a photo of any channels with cabling in it, but this is one of the thinner cavities leading to a post that I mentioned above: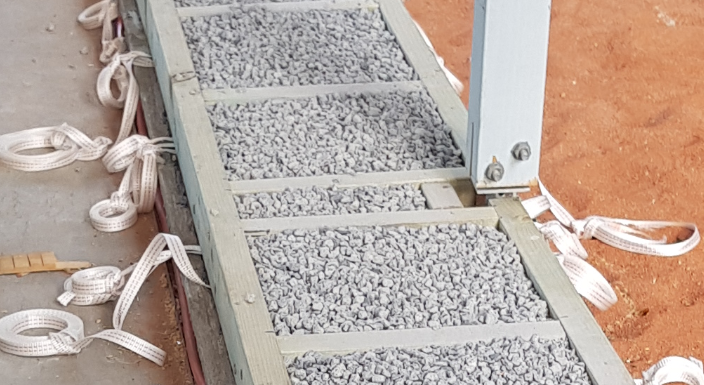 The C-channel concept does seem to work well – it took the sparkies a while to be convinced, and I think they only really 'got' it once most of the structure was in place.
Picked up some spare bales from another job last weekend, so I had to prove to some of my audience that the wall was actually the right size: