With the easy stuff done, we moved onto the trickier bits – very large brackets (to hold the ridge beam) installed on top of tall posts, with angled beams forming the gable ends.
I'd been trying to work out a good way of doing these bits, and hadn't really come up with a good answer until last night. The best I had was "put bracket on post, raise post and brace it *somehow* then muck around putting beams in.
Last night I had the epiphany that we could put the bracket itself on the lift, attach the joists to the bracket and lift the whole thing into place in one hit. This worked scarily well – the lift takes all the weight out of consideration, and you can position it accurately enough that you can just concentrate on the attachments. Bracket and joists went up, put the other ends in the corner brackets, post goes under bracket, attach everything and drop the lift back down.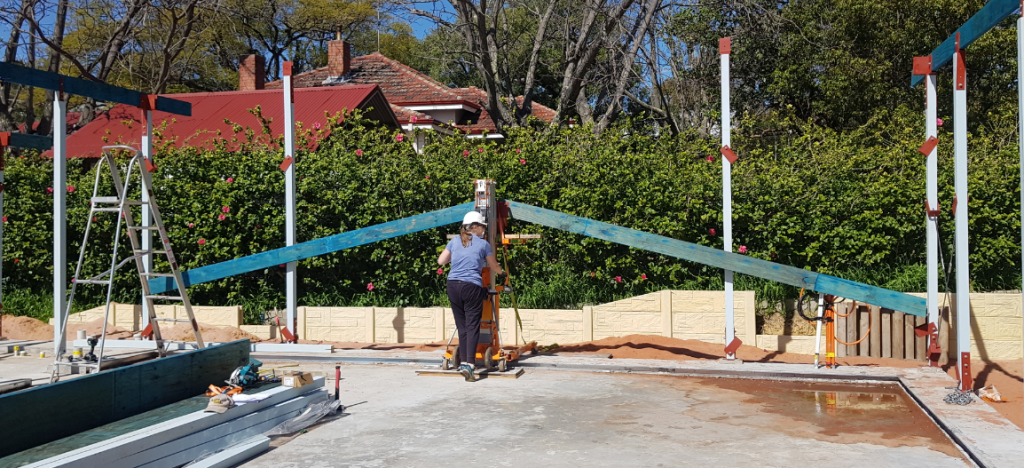 We'd intended to do the same thing for the front end of the shed, but I wanted to drill the holes for mounting the bracket to the post (one of the 190×190 merbau posts) before lifting it. In the process of doing that I….permanently attached the bracket to the post. Oops. (Well, not permanent-permanent, but I didn't want to argue with a 16mm bolt…)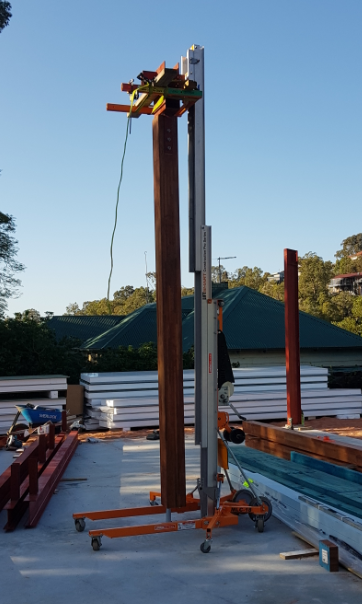 Plan B: lift the entire thing into place and attach beams. This also worked reasonably well, and avoided having to lift the post separately. It was also very cool having this gigantic vertical post cruising across the slab 5mm off the ground. Attaching the joists to the top bracket way up there wasn't a huge amount of fun (particularly at the end of a long day) – the first method was definitely better if the post itself can easily be installed after the lift.
So at the end of a rather long weekend, I have most of the timber framing up:
Including that very impressive centre front post. The weather has been too nice recently though, so it's time for a few days of rain.